Post by fallen on Nov 3, 2018 17:28:32 GMT -5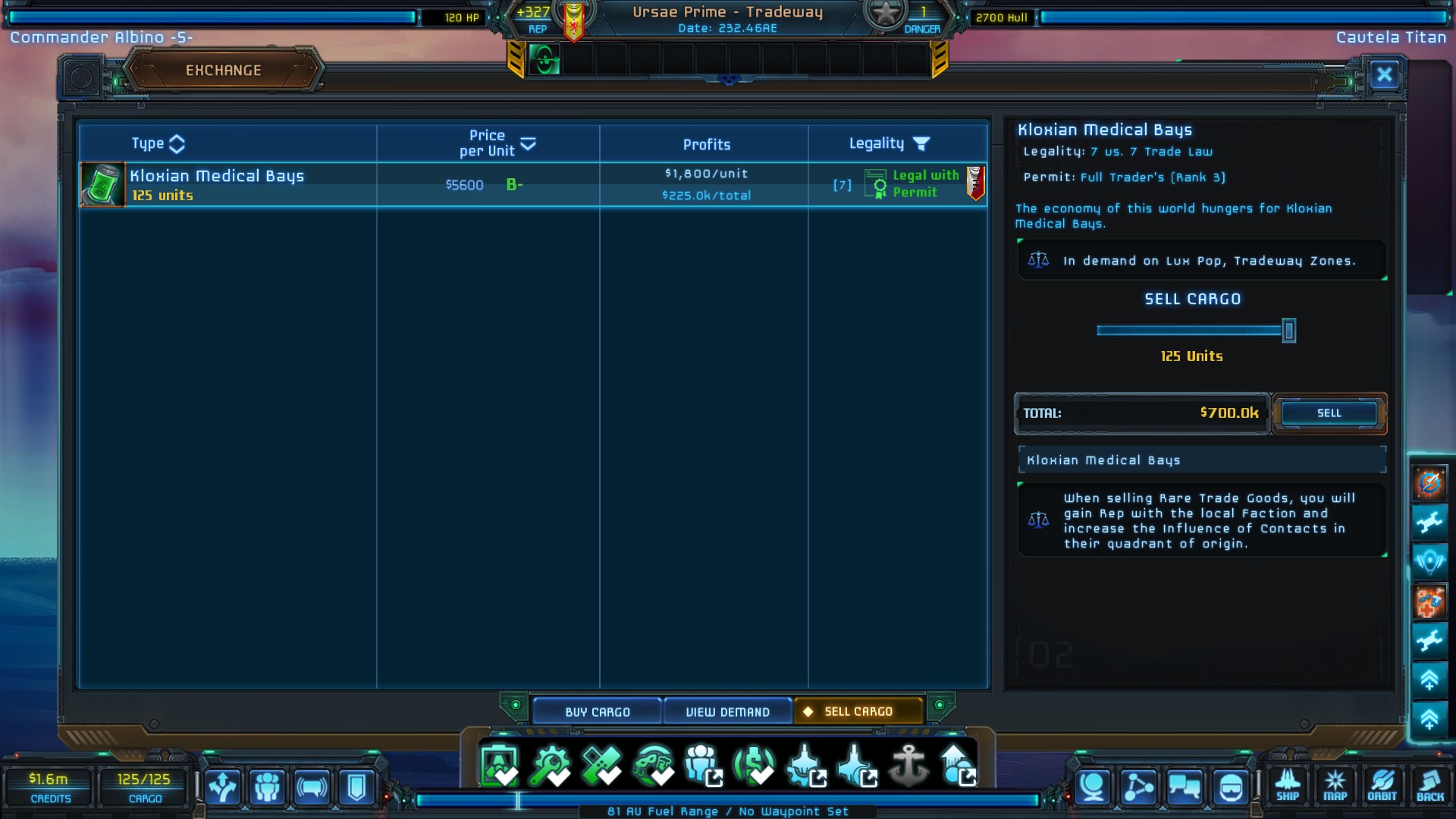 Update #113 rolls out a brand new faction-specific ship, a new rank 15 Talents for Navigators and delivers on a ton of suggestions from the Steam community -- story improvements, UI fixes, Talent balance and more. If you're enjoying the updates, improvements, new content -- please tell a friend and leave a review!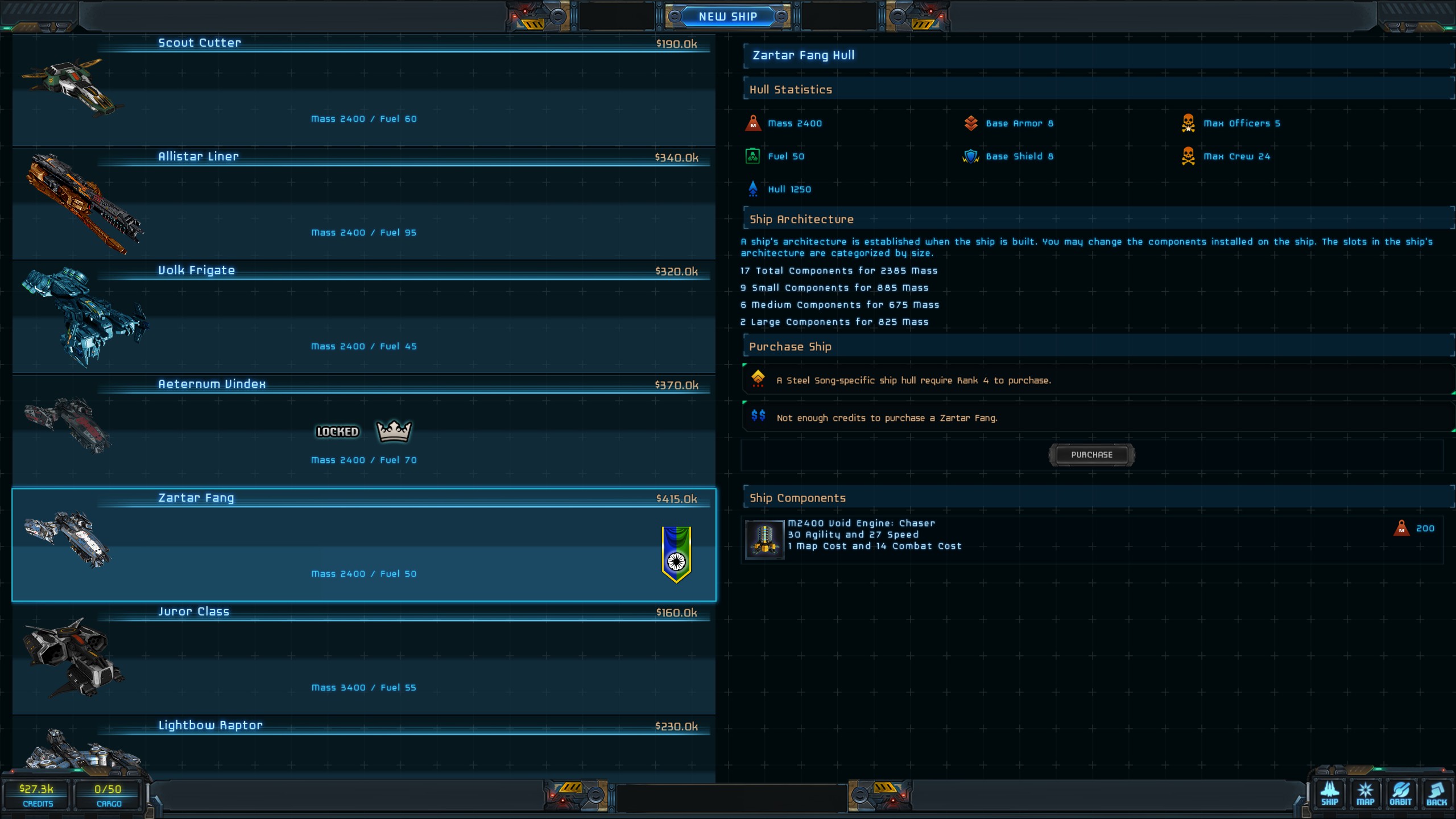 Zartar Fang
Speed and striking power are quintessential to the Steel Song combat tactics and their new faction-specific ship, the Zartar Fang, delivers on both. Weighing in at that M2400 range, the Fang rolls off the starport assembly line with a Weapons Locker A4, Armored Officer Suites and a Scout Bridge. While its base weapon systems may need an upgrade, this mid-range attack cruiser is deadly at first flight.
Closing Range
The Hyperwarp Navigator Job picks up a rank 15 Talent with this new update -- Flash Charge. A companion to Skip Off the Void, Flash Charge allows the use of the Hyperwarp Drive in the opposite direction -- straight at the enemy! With a short-burst, a heavy dose of fuel and 5-15% Damage, you can drop straight into Range 4 or even 3 with an enemy. For those targets you can't allow the chance to Escape or if your craft is built to unleash hell from Range 3, Flash Charge is ready to bring you in close -- fast.
Your chances to reach Range 3 over 4 are based on a Void Engine Agility contest between the two ships.
Stories Deepen
Calagan Faen's arc has improved with his Prime Pilgrimage mission now giving an introduction to the High Prince or Princess of his faction. All the more reason to get involved with the Faen.
We've fixed some balance issues in the run of fights through the bloodsport story, making sure that they are living up to their storied difficulty.
Steam Requests
A huge thanks to all the players posting suggestions, UI requests and more to the boards. You'lre helping us constantly improve!
Any mission that modifies the Influence of a Contact now shows not only the change to their Influence but their final score as well. No more need to dig around the Contact list to find it.
During ship encounters, you can now hover over the cargo tray to see your cargo. While you could always switch to the Ship Report tab, this tooltip has more detail and is faster -- helping you make wiser surrender / loot / inspection decisions.
The E-Suture Talent has had its Initiative cost reduced to 12, making it a competitive choice again.
You can now see the full rules for Edict / Permit / Rank loss in the Contact offers. There were some undocumented rules about the effect of going into negative Rep. Obviously, once you go negative, the faction will start to strip away any and all Edicts / Permits / Ranks with each new transgression.
Enemy ships are now using the class name of the ship ("Zartar Fang") instead of the captain's profession ("Bounty Hunter Ship").
Finally, we've updated the Hyperwarp Jump screen so that its button position matches Navigate from the main map.
v2.4.19 - 11/3/2018
- New Steel Song faction-specific ship "Zartar Fang" (Mass 2400 mid-range attack cruiser, 5 Officer, 6 mediums)
- Added new Hyperwarp Navigator rank 15 Talent "Flash Charge" -- short-burst HW jump starts combat at range 3 or 4
- Improved progression of enemy challenge level in bloodsport vignette
- Improved Calgan Faen's story missions -- Prime Pilgrimage gives Introduction to High Prince / Princess
- Further clarified Edict, Rank and Permit rules -- if you go into negative Rep, you stand to lose any grade of these faction benefits for continuing to cross the faction
- All mission steps that modify Influence for a Contact now include the Contact's new Influence score as well as the change amount
- Reduced Initiative cost of Combat Medic's "E-Suture" to 12
- During Ship Encounter, hover over cargo tray to see what is in your cargo hold in tooltip -- make faster decisions
- Enemy ships now use ship type names ("Galtak Heavylift" or "Solar Predator") instead of captain profession name ("Military Officer Ship")
- Stashes created as rewards from Orbital Salvage are more likely to be within the same quad
- Improved Damage range on Otrike Longrange Sniper Rifle
- Fixed bug causing enemy combatant officers to have one less Talent than expected
- Matched Hyperwarp Jump screen layout to be consistent with other Navigation actions
- Prevented hovers in crew and ship combat from appearing while actions are running
- Improved tooltips in card minigames