Post by fallen on Jan 13, 2019 18:29:49 GMT -5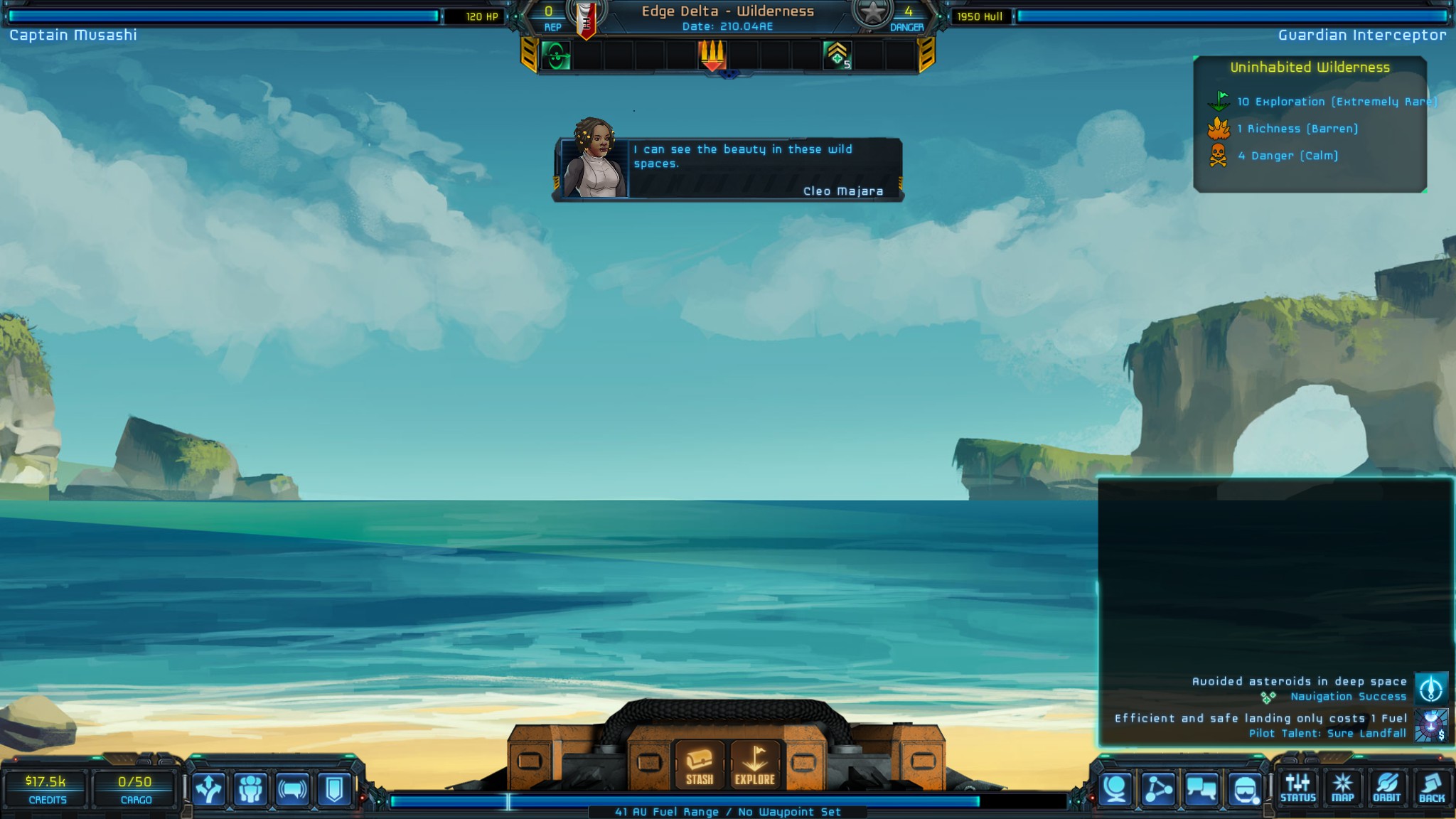 In Update #128 the faction juggernauts of industry and military might gain their first set of faction-specific bonuses, another round of art additions finishes the gear catalogs, the game over screen gets a big boost, Bounty Hunter Talents get some rebalance and a new player-requested feature in "Stash All" in wild zones! It's big, its packed, its Update #128.
Javat, Cadar and Steel Song
Relying on their immense network of mining and refinery operations, Javat is able to offer Water-Fuel at a 10% discount at all of their starports. Where the price is below $10, the discount always cuts at least $1 off the price.
On the military side -- out of reverence for military captains, all Cadar faction holdings reserve extra Spice and Medical supplies for captains bearing military rank. As the grade of your military rank increases, the reserved cache of spice and medical supplies increases. On the far side, Steel Song bestows great prestige upon those that carry their Edicts. Every grade of Edict grants a 1% discount on any and all starport upgrades -- from weapons to armor to new prison cells.
Stash All
Thanks to our awesome community, we've got another player-requested feature in #128. The "Stash All" button in wilderness zones allows you to quickly drop everything in your cargo hold onto into a hidden stash.
Crew Combat Balance
With Update #128, we've changed the Initiative cost of 2 Bounty Hunter Talents -- increasing Unfaltering Ire to 10 and reducing Hunter's Challenge to 10. Also, the bonuses from Steadfast Aim have been reduce to flat +20% to Ranged Damage, Accuracy and Piercing.
Across the board for character's gear, the bonuses to Damage have been reduced, from between 5% to 10% for some of the higher pieces of gear.
Legendary Deaths
For those legendary captains who have died in the void or fighting to get back to it, the game over screen has gained some big improvements to help you remember their life and deeds. You can now gain access to the full Captain's Log as well as the Captain's Awards list in order to bask in their (fallen) glory!
And More, More More
We've also added over 100 new names to the game's name generator for added variety and more flavor. We've added 10 new barks for Traits like Drunk and upgraded the Trait mutator to avoid confusion combinations like Tense + Calm. And we've fixed a host of little bugs reported on Steam -- issues with the starting mission, different window size handling at different scaling, losing Rep with Indies and more.
Thanks to everyone posting feedback and suggestions!
v2.4.61 - 1/13/2019
- New Javat Faction Bonus: Javat starports offer a 10% fuel discount on normal fuel prices
- New Steel Song Faction Bonus: captains with Edicts gain discount on all upgrades in starport at 1% per Edict rank (rank 9 = 9% off)
- New Cadar Faction Bonus: captains with military rank gain access to additional spice and doctor supplies
- Added 11 new pieces of gear art for to round out the catalog
- Added 10 new barks for characters by Trait (thanks Steam!)
- In Memoriam screen now features the fallen Captain's Awards and Log (thanks Twitch!)
- Added "Stash All" button for Wild Zones to dump entire hold to stash with one click
- Increased list of names in the name generator by 10% (over 100 new names)
- Bounty Hunter Talent Initiative changes: Hunter's Challenge only costs 10, Unfaltering Ire now costs 10
- Bounty Hunter Steadfast Aim changes, reduced self-buff to +20% Damage, +20% Accuracy, +20% Piercing
- Improved Trait exclusion tables to avoid odd combinations
- Reduced highest bonuses to ranged or melee damage granted by gear
- Fixed bug where Arbiter's mission disappears after accepting it
- Fixed bug allowing some missions to cause fake loss or gain or Rep with Independents
- Fixed inconsistencies between System Atlas and Contact Detail around Recruiting and other Trait-base services
- Fixed some inaccuracy in mission text
- Improved UI responsiveness to certain screen sizes and scaling