Post by fallen on Apr 22, 2019 21:42:35 GMT -5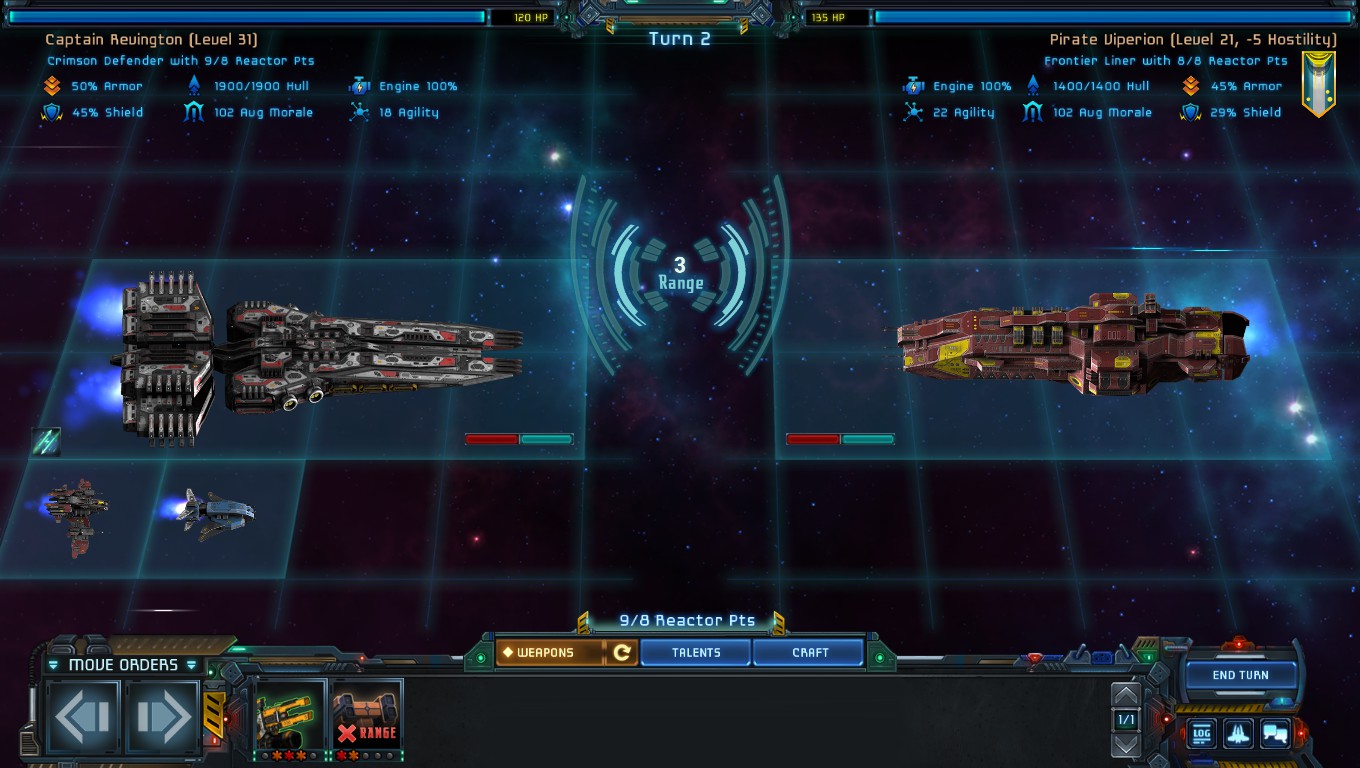 Update #143 comes screaming out of the gate with a new Contact service, new types of gear, balance changes, craft Talent fixes and improvements to the ship combat log.
We also want to extend a huge welcome to all the new captains who joined us last week. We've met some of you on the Steam forums and look forward to hearing from more of you. If you're enjoying the game and the pace of updates, please tell a friend and leave a review!
Wing Specialist Gear
Many of the craft-focused Contacts are now offering a new service -- selling gear specifically for your wing pilots. With slick bonuses to your Hit Chance and Evasion these new gear options are perfect for any officer who is risking it all by piloting a craft. You can find the new gear under the Contacts > Gear Filter as well as just seeking out Contacts like Squadron Mechanic, Flight Academy Officers or Provost or Naval Recruiters.
More options will be coming over time, and it's also rumored across the spice hall that other unique wing specialist gear may have been seen in future Salvage cards.
Balance, Talents and More
With INTERDICTION now a week behind us, we're still cleaning up some issues before we release the enemy craft AIs. A huge thanks goes out to everyone who has sent in crash reports and posted to the forums. We had a spike in stability issues right after INTERDICTION and we are excited to see that the crash counts have almost returned to pre-craft levels now! This release will help even more.
We've fixed a crash with the Wing Bomber's Ruthless Destruction Talent. We've also fixed an issue that was causing Ransom Escort not to work in ship combat victory. Finally, with help from
veyer
we've tracked down a sneaky bug that was causing Wing Commando boarding victory Talents not to appear as options sometimes.
We've also resolved some issues with the faction of the enemies you fight in the Black Market. The security forces are now correctly factioned.
In ship component land, we've fixed the install time on Interlocking Sensor Matrix 4.
We've improved the combat log entries about closing in, retreating and attempting to escape so that they are more clear about which direction your ship is heading. We've included a third summary line at times to help make the results as clear as possible.
Thanks to everyone leaving a review!
v2.5.11 - 4/22/2019
- Added new Contact service to sell "Wing Specialist Gear" -- see your Squadron Mechanic, Flight Academy Contacts, Naval Recruiters
- Now for sale, 7 types of Gear ranging from level 1 to 6 to improve your ace wing pilots
- Fixed Black Market cards for Faction Security providing Indie enemies, now correct local faction
- Fixed crash when using Wing Bomber's "Ruthless Destruction" Talent
- Fixed issue with Wing Commando "Long Range Support" Talent needing an Interdictor instead of a shuttle
- Fixed issue with Wing Commando boarding victory Talents not appearing in some crew-craft setups
- Adjusted text in ship combat log to differentiate between attempted range changes and escapes
- Clarified rules about Trade Permits preventing looting from faction pirates
- Fixed install time on Interlocking Sensor Matrix 4