Post by fallen on Dec 5, 2018 15:12:29 GMT -5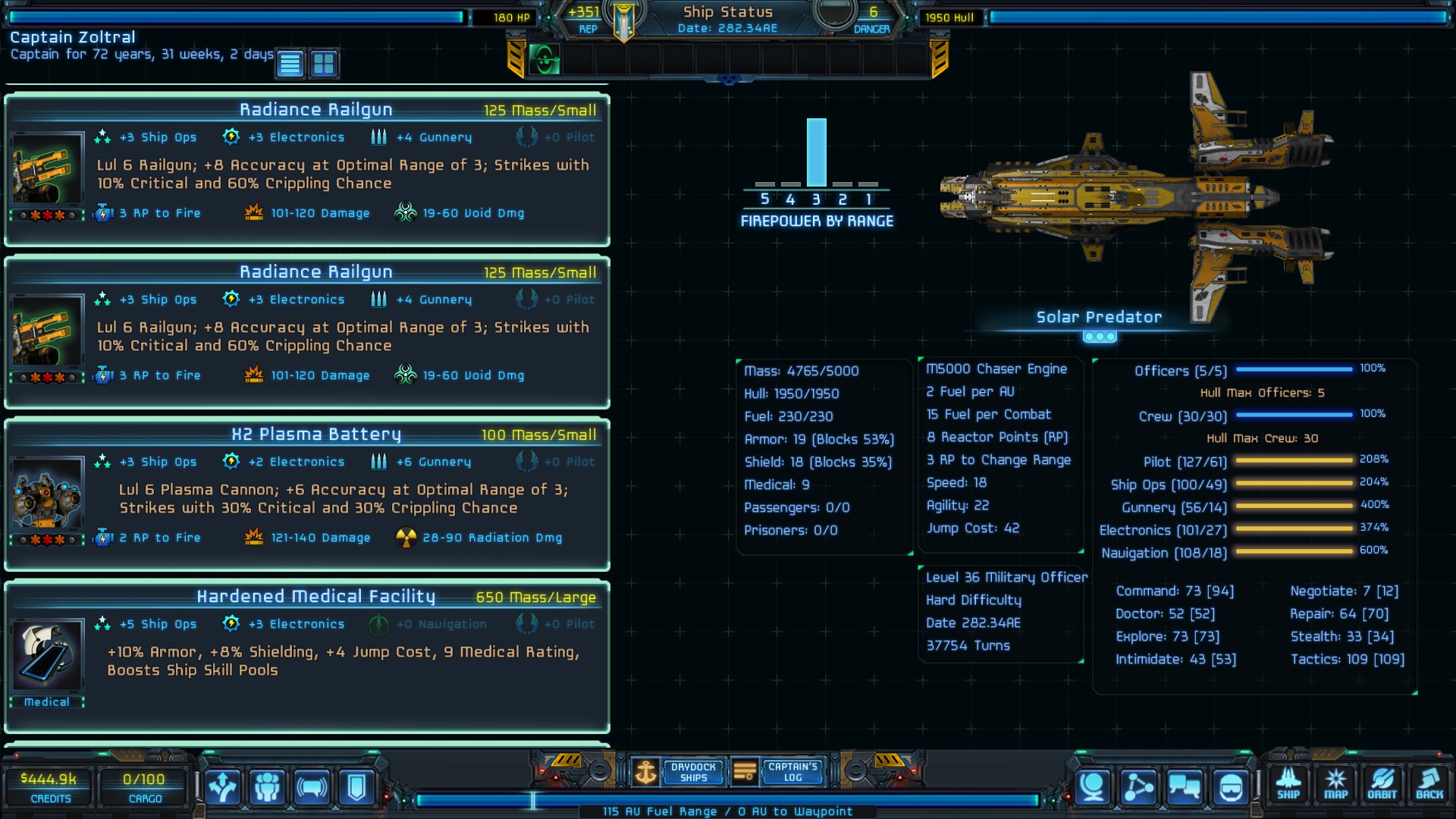 Update #119 shifts the balance of Exploration by updating Exo-Scout Skills and adds more spice to an important Exo-Scout Talent. We're excited to see new Job combos and playstyles emerge as these new changes go into affect.
We've also streamlined the new game experience for our repeat players and made the first round of big tweaks to crew combat math, with every armor's Deflection % going up. More coming soon on this one.
Thanks to everyone supporting our efforts and for sharing or review the game!
Exo-Scout Rebuild
For a long time, discussions about the Exo-Scout as a combat class have been swirling around the Steam forums our Discord. With this update, we've finally put into place a series of changes that help re-balance the placement of the Exo-Scout and Explorer in the game. This an important set of changes but we know it shifts the balance tables a bit. Excited to hear your feedback!
First, Exo-Scouts have had their Skill progression rebuilt to focus on Rifles as their primary, Exploration as their secondary and now adding Evasion to the mix. This gives Exo-Scout some defensive abilities while maintaining their offensive advantages. Also, it shifts the balance of which Jobs have Explorer Skill so that Explorer is best, Exo-Scout is second.
For Talents, we've done two renames to kick things off. We have renamed Explorer "Artifact Hunter" to "Artifact Profiteer" and Exo-Scout "Resolute Hunter" to "Artifact Hunter". In addition, the (newly renamed) "Artifact Hunter" Talent has its cool down extended to 9 weeks as well as a Danger-based chance to draw a "Xeno Spore" card instead of a simple Artifact reward card. This will still net 8-16 Artifacts but comes along with a xeno fight as well. Higher Danger zones have a increased chance to draw this, but even in the worst possible scenario its still a low %.
Skip Intro + New Game Remembers
New game has gotten smarter and snazzier with this release. First, we've added a new option -- Skip Intro. As a game that encourages replay, we know a lot of players make a lot of new captains. Skip Intro cuts the entire intro scene down to a single line of dialog -- a reminder about the Arbiter waiting -- so its a single click to get playing now.
In addition, New Games now remember your last choices for Difficulty, Faction and Skip Intro. If you've got a favorite setup, this will help streamline your process. Finally, we made some really helpful clarifications in the Custom Difficulty tooltips to be clear what the baselines were and what choices make certain aspects of the game harder or easier.
Improved Deflection %
With Update #119, we've started a process of shifting some of the balance again in crew combat. This time, we've pushed the Deflection % values for every armor higher. As this was an across the board increase, this change is really more about weapons. Now, weapons that have lower Piercing % are even less likely to punch through heavier armor while those with higher Piercing % really shine for that specific attribute. Especially when stacking with Buffs now, you can achieve a Deflection % that can be hard to take down, unless your enemy is wielding something heavy or a sniper rifle.
More tweaks and rebalances will be forthcoming as we push for the next level up on crew combat.
v2.4.37 - 12/5/2018
- Exo-Scout Skills rebuilt, now Rifles, Explorer, Evasion in priority order
- For clarity, Renamed Explorer "Artifact Hunter" to "Artifact Profiteer" and Exo-Scout "Resolute Hunter" to "Artifact Hunter"
- Exo-Scout "Artifact Hunter" now has a Danger-based chance to draw Artifact Guarded by Xeno card
- Exo-Scout "Artifact Hunter" cool down extended to 9 weeks
- Starting Faction and Difficulty choices are now remembered from the last New Game
- Added "Skip Intro" option to New Game for faster start, also remembered
- Increased Deflection % across the board on crew armor, making Piercing % more defining for weapons
- Increased Piercing % for all Grenade Attacks
- Fixed Wisdom Attribute display in Orbital Salvage Reward Factors
- Improved consistency of button style in crew detail / talents / jobs / promotion
- Clarified rules in Custom Difficulty tooltips
- Increased performance for new games and loading games