Post by fallen on Jan 9, 2019 12:20:25 GMT -5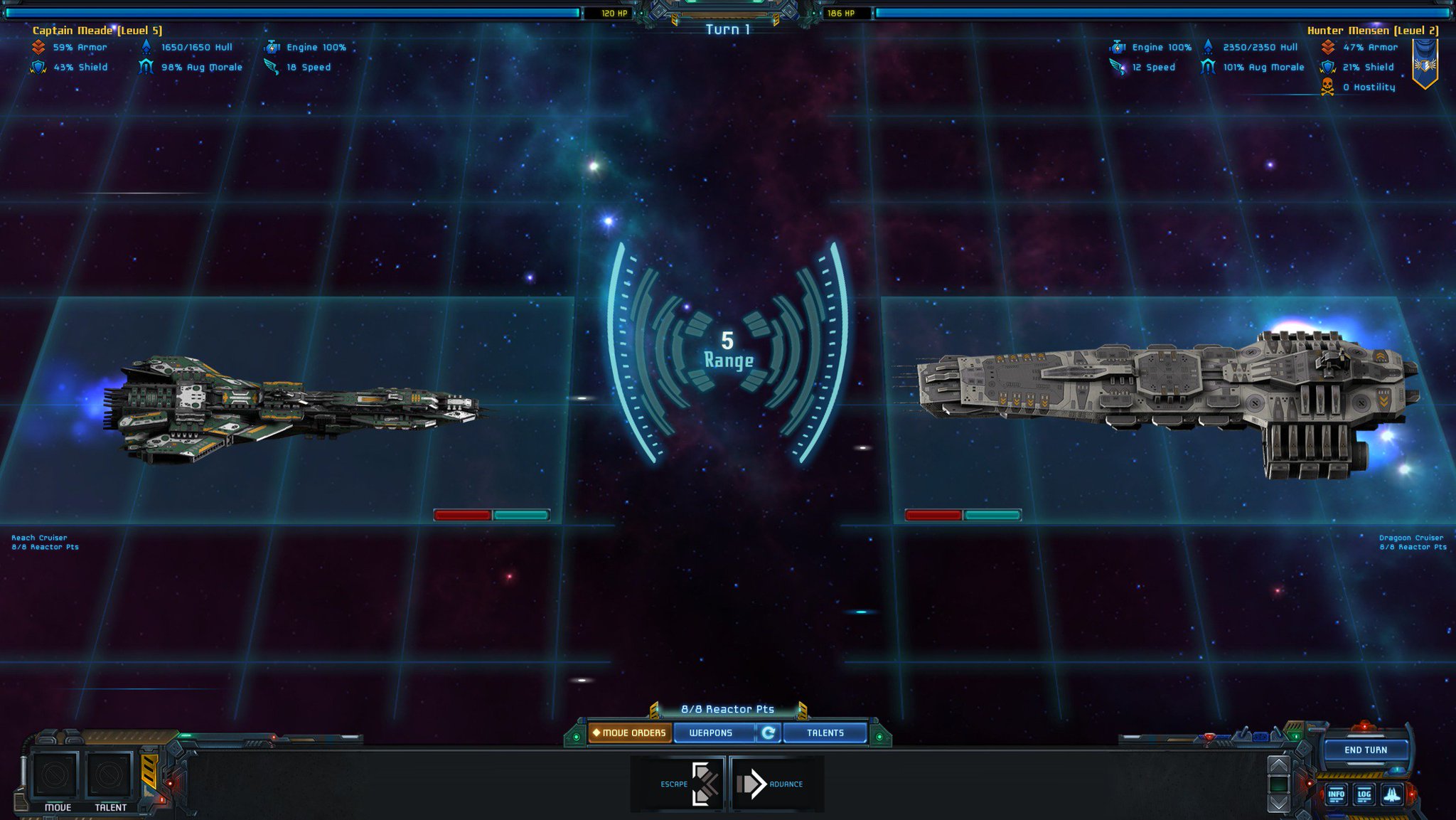 Let's keep the new year cheer rolling with another big update! With #127, we're rolling out the Alta Mesa faction-specific ship, 5 big new components, 3 new Traits, 6 new faction special rules, new art for character gear and more! Step onto the bridge, captain, and let's sail.
Alta Mesa's Reach Cruiser
An easy candidate for "most well-rounded 5K ship" the Reach Cruiser is a custom designed, heavily armored long-range cruiser build exclusively by the shipyards of Alta Mesa. Designed around an armored core of integrated Crew protection components, like the Alta Mesa Battle Bridge, the Reach Cruiser can protect a crew and soak up an incredible amount of punishment in battle and survive. Their reputation as the best shipwrights in the galaxy proceed them, and the Reach Cruiser delivers!
Large-scale Components
Update #127 adds 4 new Large slot components and 1 Medium slot, beefing up the options available to any ship willing to trade its larger slot for additional cargo, fuel or armor. The Alta Mesa Battle Bridge (medium) is combat ready and heavily armored. Cadar's Battle Prow 5 (large) adds a ridiculous complement of Armor with a dash of Shield while Javat's Hull Plating puts Shield first and Armor second. Both large-scale components can provide a great deal of ship's needed defensive soak, at a trade for a good deal of jump cost in fuel. Thulun's new Armored Cargo Hold 4 (large) packs a 40 cargo hold and adds 65 Fuel while the De Valtos' Fuel-Cargo Hold puts more emphasis on 95 Fuel over 35 cargo.
All of these large slot components provide a great deal of utility and free up smaller slots for other work, but all require more than 600 mass and add to jump cost. Packing a few of these large cargo and fuel options onto a ship can extend its range immensely, enabling you to cross multiple hostile quadrants without a need for a refill.
Faction Special Rules
With Captain-only Traits now behind us, we're moving on to Faction specific rules. Update #127 has released the first wave of these new additions, showing the character and specializations of these factions.
With the latest medical tech available to all citizens, cost of healing at De Valtos clinics is reduced by 20%. Employing a unique blend of holistic medicine, spice products and medical tech, cost of healing at Zenrin clinics is reduced by 20%.
Plush with every comfort and type of spice, Rychart Spice Halls can raise crew Morale to 90 (instead of 80). If you're sailing the void past a Rychart world, the crew may clamor now for a quick stop to "top off" their Morale.
Combining sure proficiency with advanced tech, Thulun starports repair ship hull and component damage in 20% less time than elsewhere. Unrivaled expertise in ship construction eases upgrade cycles, Alta Mesa starports install new components in 15% less time than elsewhere.
Known to be both stubborn and of robust health, Zenrin Contacts live 30% longer than normal.
More Faction specific rules will be coming, so don't be salty if your faction was not included in this go round!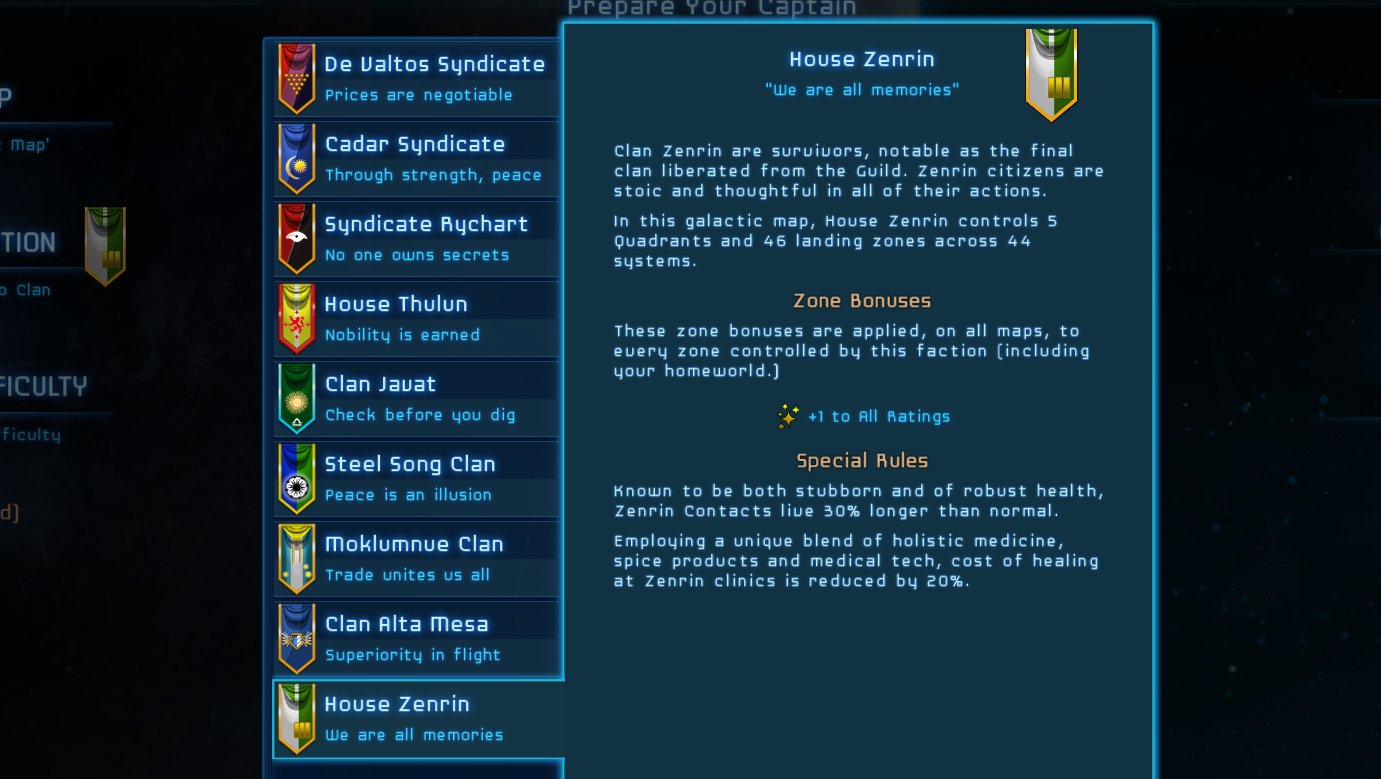 New Traits and Tweaking Captain Traits
With this release, we've added 3 new Traits suggested by
drspendlove
from our awesome community: Hypochondriac, Fierce and Paranoid. You'll encounter new recruits who may have these Traits and will see them mutating onto your existing crew. Those with Hypochondriac cost twice as much to heal, Fierce characters gain +15% Piercing, +1 Strength and -1 Charisma while Paranoid characters gain +2 Initiative, but lose -2 Wisdom and all Morale gains are reduced by 50%. The Trait Conditioning of the Gestalt Technologists can remove Hypochondriac ... for a price.
We've also fixed two issues with the Captain-only Traits. In some cases, the Zealot's Single-Minded Trait was incorrectly stating that it increased Fortitude, which it does not. We've also fixed a bug with the Diplomat's Honorable Trait which was causing positive Reputation gains with the enemy faction during missions.
v2.4.59 - 1/9/2019
- New Faction-specific Ship: Reach Cruiser, a heavily armored long range cruiser
- New Ship Component: Battle Bridge (Alta Mesa)
- New Ship Component: Battle Prow 5 (Cadar)
- New Ship Component: Hull Plating 5 (Javat)
- New Ship Component: Armored Cargo Hold 4 (Thulun)
- New Ship Component: Fuel-Cargo Hold 4 (De Valtos)
- Rebalanced Vrax Hauler base hull stats
- Revenant Trait now grants immunity to a failed Death Save one time; then it is removed
- Added 3 new Traits: Hypochondriac (doubles price for healing), Fierce (-1 Charisma, +1 Strength, +15% Piercing), Paranoid (all Morale gains reduced by 50%, +2 Initiative, -2 Wisdom)
- Gestalt Technologist can use their trait conditioning service to remove Hypochondriac
- New Thulun Faction Bonus: Thulun starports repair ship hull and component damage in 25% less time than other starports
- New Alta Mesa Faction Bonus: Alta Mesa starports install new components in 15% less time than other starports
- New Zenrin Faction Bonus: Zenrin Contacts live 30% longer than normal
- New Rychart Faction Bonus: De Valtos Spice Halls can raise crew Morale to 90 instead of 80 at other spice halls
- New Zenrin and De Valtos Faction Bonuses: price of doctor services at Zenrin or De Valtos is 20% lower than other factions
- Added new art for character's gear
- Corrected description of Zealot's Single-Minded Trait (+2 Resilience, +2 Init, +10% All Dmg, Never Morale Breaks in Crew Combat)
- Fixed bug with Honorable Diplomat Trait causing positive Rep gain with enemy faction
- Fixed bug where Spicing from the Spice Hall detail screen did not take Turns