Post by fallen on Feb 16, 2019 11:34:53 GMT -5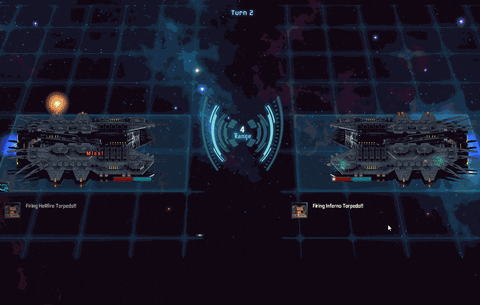 With Update #135 we're rolling out a hotly requested high speed combat option, two new Talents to help captains who are trying to escape enemy targets, a change to ship combat that buffs the Armor/Shield meta and new rules to help Contacts focus their missions on their zone of influence. Not to mention a ton of bug fixes, small tweaks and improvements!
Let's get started!
Fast Ship Combat
For those players who want to move quickly, feel comfortable already with the combat system or who have put in 400+ hours -- the new Fast Ship Combat option may be perfect for you. The GIF above shows an entire turn of combat elapsing in a flurry of traded shots, damage values, misses and critical hits. With this option enabled, you can move through ship combats much more quickly than before, well over double-speed. Of course, if you missed any detail you really need to see the Combat Log has it all there for you.
We've also improved the display of critical hits! You'll now see "-102 Crit!" floating above the hit and the text itself is scaled up to help it pop. It's a glorious moment, as long as you were the one scoring the hit!
New Talents
We've added a new early and a new late-game Talent -- a rank 1 Gunner Talent and a rank 15 Engineer rank 15 Talent. Both are geared toward helping players who are trying to Escape challenging combats and both take a very different approach to getting there.
The new "Elusive Barrage" from your Gunners gives you a debuffing attack that reduces the enemy's Accuracy and Range Change. As all Range Change and Escape rolls are opposed, it is critical not only to buff your own scores but also to debuff your enemy to ensure that they score less successes on their part of the dice roll. Elusive Barrage is great paired with any other Escape Talent like Bolt or Fast Getaway, or the new Engineer Talent.
The new Engineer Talent "All the Power" dangerously reroutes the ship's power into the void engine to enable a rapid escape. The Talent comes with some drawbacks -- reducing Shield and causing internal component damage, but the bonuses to Escape and Move are high -- very high. Having a high level Engineer on your crew to help perfect the power balance on your ship has new appeal -- especially for those looking to dodge battle in the void.
Armor/Shield Meta
With Update #135, we've opened up a new frontier for Armor and Shield within ship combat. Based on your ship's base Armor and Shield, plus any Armored or Shielded components you've installed, you can reach a maximum of 60% Armor or Shield. Now, with Update #135, your Talents that buff Armor and Shield can still be useful even if your ship is built to soak up the hits. While 60% is still the maximum for each in ship build, your buffs can now raise Armor and Shield all the way to 75%. This enables new strategies and synergies between ship class, component build outs and the right crew to build ships that rely more on soak than previously possible.
Not that getting hit with a void-cutting Torpedo is every going to be nice ...
Contact and Conflicts
We've made a major improvement to all Contacts' interest in Conflicts -- now Contacts will avoid Conflicts that are really out of their scope of interest or influence. For example, a Merchant will not engage in a Solar War nor send you on missions to destroy enemy ships during one. Nor will a Smuggler get involved in an Alliance.
This lack of ability to ignore Conflicts has led to many of the odd Missions situations that Steam players have been asking about -- if my Smuggler is *supporting* this Alliance, why is he asking me to sneak illegal packages into their zone? Well ... because he is a Smuggler! That's what he does.
We've added the exact details of which Conflicts mission-givers ignore to the wiki --
startraders.gamepedia.com/Mission_Types
v2.4.83 - 2/16/2019
- New Feature: Fast Ship Combat resolves turns very quickly
- Added new rank 1 Gunner Talent "Elusive Barrage" reduces enemy Range Change and Accuracy -- perfect Talent to debuff enemy as you try to flee
- Added new rank 15 Engineer Talent "All the Power" which routes all Void Engine power into escape attempt but causing internal damage and reducing shield in the process
- While ship Armor and Shield maximum from base plus components is 60%, Buffs can now raise Armor and Shield to 75%
- Critical hits in ship combat are now shown as "-120 Crit!" during combat
- Contacts no longer give Missions related to Conflicts out of their zone of interest -- Smugglers ignore Trade Alliances, Merchants ignore Solar Wars, etc
- Increased price of Inferno Torpedo (small slot, level 5) and Torpedo Dual-Laced Array (small slot, level 7)
- Fixed balance of off-hand short blades at level 6 and 7, reduced some of their stats
- Fixed issues with some Explorer cards and other Talents that could generate Terrox Artifacts that were Independent Faction
- Corrected bug that was showing all Introductions to be 1 jump farther than they were
- Fixed bug preventing Contacts who got the "Learn Salvage Rumor" from a Trait from appearing in contact filters
- Fixed bug causing Crew List sort memory to get wiped if you sorted Starport upgrade components
- Fixed mission bug where Rep loss could be shown with xeno faction