Post by fallen on Feb 25, 2019 14:59:09 GMT -5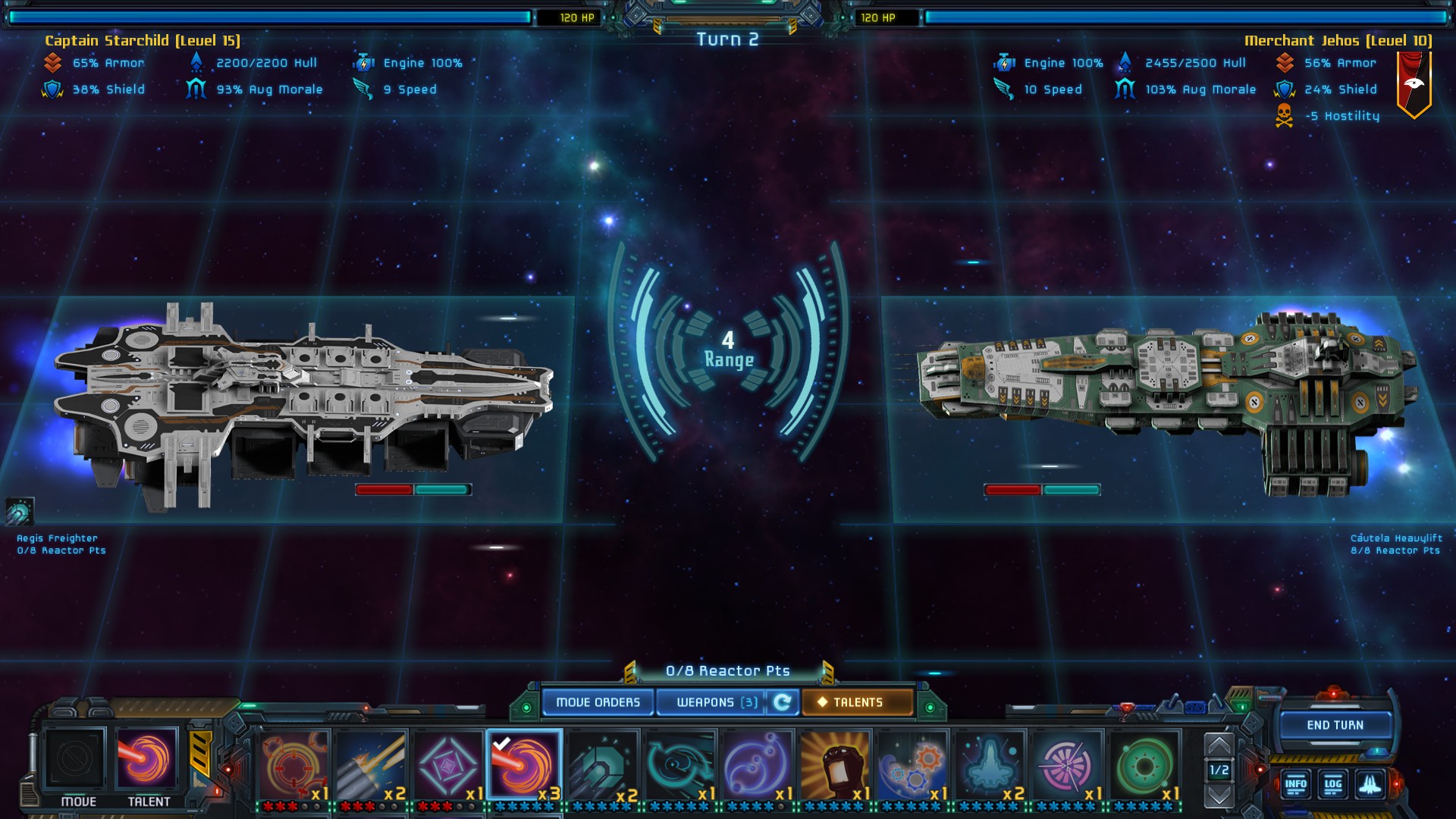 Update #137 is a bit of a monster. We must have gone too many days without doing an update -- features, new art, component upgrades, and all sorts of great changes just kept piling up. The result is #137, Behemoth Looms!
If you're enjoying the pace of updates and all the new goodies, please tell a friend and leave a review!
AI Improvements
With Update #137, the enemy AI has taken another big step forward with its ability to specialize the ship during build-out and then in the ability for the AI to specifically take actions that use that specialization during battle. The enemy AI is better at managing its attempts to move into its chosen optimal battle range, better at focusing on firing its optimal weapons to the best effect and in the case where it has the Talent, successful in using Twitch Surge intelligently.
The ship builder AI also has been buffed to match this, allowing for military and non-combat ships to better specialize their component builds based on their type and design pattern.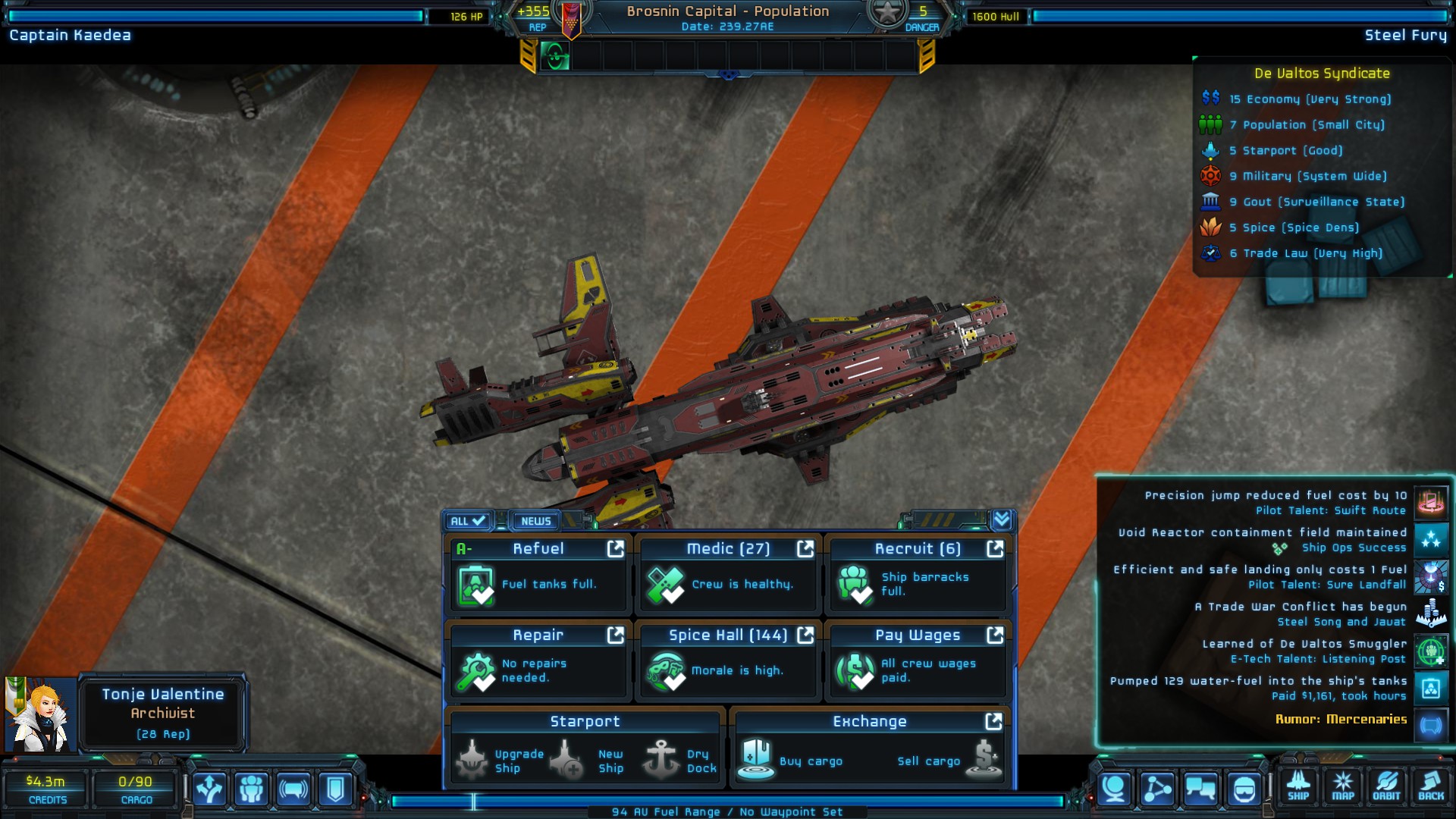 Ship Adjustments
Adjustments to the design of the Zartar Fang improve the fit for the assigned role by increasing Pilot and Navigation soak pools. By using a Mass Dampener and Modulator instead, the design is still able to manage mass and increase pools.
The Palace Interceptor has been reworked to better avoid damage and increase performance in combat. The engine has been swapped out for a Traveler instead of a Longhaul for higher combat speed. In addition the range 2 weapon has been upgraded from a single lance to a lance array that should improve the damage output for the Palace Interceptor at range 2.
Both the Vulture Liner and Callus Freighter received small balance improvements to increase their ship pools and eliminated unnecessary mass dampening components.
These improvements both assist players using these ships but also improve their legality and challenge level as enemies.
Component Improvements
A number of components gained benefits with this release. Starting with the EVA Decks, we've added Shield and Fuel Storage. The Signal Array has increased its Electronics Pool while the Hull Cladding had gained Shielding and had its mass reduced. The Hull Plating on the other hand has gained Armor but kept its original mass. The Orbital Scoop has lost some of its Fuel storage while the Surface Scanner has gained Electronics Pool and the Resource Harvester added Cargo and Fuel storage to better match some of the other awesome hybrid components that have come out since Salvage was added.
A huge thanks to the community members helping with these balance changes!
Contact Introductions
Thanks to slide87 for suggesting that Contact Introductions should display the full list of services offered by that contact. Now, with the clear distance, price, contact type and services offered -- you've got everything you need to make the best informed decisions about which Contacts are worth paying a hefty fee to meet.
Especially with the ability to see in advance recruit types -- this is a huge win from a community suggested feature.
AOE Attacks Cancel Stealth
This is not a new rule -- AOE attack Talents have always ended Stealth Mode. However, we've now added this rule directly to the game in the right hand details bar when looking your Talents.
Rebalancing Cards and Adding Art
We've made some changes to the meta scores of cards in both the Black Market and Orbital Ops with this update. In the Black Market, we've shifted around different cards in the negative set, making Captain Damage a -1 while better aligning the Confiscate Cargo cards so that they are -3, -4 and -5. In Orbital Ops, we've bumped Distress Signal to -1 so that you can use Talents against it, as it can have some nasty results along with its possible positive results.
With Update #137, we've added new card art for both Pirate and FDF ground combats. We've got more coming too!
v2.4.89 - 2/25/2019
- When viewing offered Contact Introductions, these now include a list of Contact's offered services
- Further improved enemy ship builder AI -- military ships are more focused on their builds and components that serve their weapon types and ranges
- Improved enemy ship combat AI -- improved ability to range change to use ship's components and strategy to best ability and best use of Twitch Surge
- Improved enemy ship combat AI to better focus on firing optimal ranged weapons and achieving optimal range for battle
- Rebalanced meta score for Black Market cards -- cargo confiscation and captain damage
- Converted Orbital Ops "Distress Signal" cards to -1 Risk Cards so they can be hit with Talents
- Buying or selling cargo in exchange or black market now takes 1 Turn ("hours") if quanity is over 5
- Fixed Mechanic's "Entropic Estimate" to properly predict the timeline of the current Orbital Salvage Rumor
- Crew Combat AOE attack talents now list in their rules that they End Stealth Mode
- Removed rare chance that Smuggler recruit could start with Rigidly Lawful Trait
- Swapped starting Contact recruit types -- Spice Traders now recruit Merchants, Smugglers recruit Smugglers
- Reordered Atlas Zone listing to better match map and hovers
- Increased Hyperwarp Jump Test difficulty slightly, small increase in penalties when jumps are failed
- Improved "EVA Decks" Ship Component (Added Shielding, Fuel Storage)
- Improved "Signal Array" Ship Components (Added Electronics Pool)
- Improve "Hull Cladding" Ship Components (Added Deflection, Reduced Mass)
- Improve "Hull Plating" Ship Components (Added Armor)
- Improve "Orbital Scoop" Ship Components (Added Fuel Storage, Reduced Mass)
- Improved "Surface Scanner" Ship Components (Added Electronics Pool)
- Improved "Resource Harvest" Ship Components (Added Cargo, Fuel Storage)
- Fixed issues with Templar and Hunna ships in Orbital Ops
- Fixed issues with leaderboard scores not updating
- Ship Design Improvements by Resistor:
* Improved 'Zartar Fang' ship
* Reworked 'Palace Interceptor' ship
* Updated 'Vulture Liner' and 'Callus Freighter' ships
- Added new card art for pirate and FDF encounters in exploring and black market