Post by grävling on Feb 26, 2013 16:18:21 GMT -5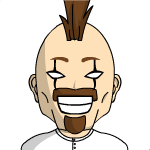 jclarksprint
- thanks for sharing the opinion.
If we work together, we can hold them off

I think it works precisely the opposite way.
In the end XP are really more important than creds. AP and athletics are so significant if you fail to invest in them, creds or no creds, the game will cause you some suffering.

Exactly. My problem isn't that the extra credits makes the game too easy for the newbies, but that it masks the real problems that they are having.
I think that it would be better if many newbies -- the ones sending me mail about their problems, at any rate -- spent more time in the Tunnels than they spend now. The shock of the difference in difficulty between the two places is still large. One of the greatest shocks is -- well, now that there are things that are finally worth buying available, the ganger jobs pay very little compared to the tunnels, and are harder. I am getting complaints that this is not fair.
I'm fine with the tunnel jobs paying extra, but what I think they are currently doing is paying an order of magnitude more cash than they are worth -- and that comparable jobs are worth in the NBZ. Belly-aching MnB complains that the Connectors barely pay him when he is earning 200 Y for a message delivery in the same zone. He's never going to get things this good ever again!
Handing newbies a bunch of cash encourages the idea that, if your performance is poor, there is something you can do about it by spending money.
If all you have is a hammer, the whole world begins to look like a nail.
I would dearly love to get a hold of the newbies and say: Don't buy any implants at Black Row. They are all garbage, and very much not worth losing XP over. I would like it if the store in the Black Row stopped selling the Hunter Sight. It is a great gun, and because things are easier in the Tunnels, you can use it to kill Los V tunnel rats to great effect. But in the NBZ, an accuracy 2 gun is not going to perform for you until your firearms skill is significantly higher. You want to buy the Twitch Carbine for its greater accuracy instead.
If you want to buy that hard armour in Black Row, well, there are good things to say about doing this, but it doesn't turn you into a tank. And until your dex gets fairly decent, you may get hit a whole lot more often, so end up being more damaged than if you stuck with the Armor Jacket.
One of the wonderful things about this game is that 'more expensive' does not equal 'better'. 'Better stats' does not necessarily equal 'better' either -- what counts is how the gear works with your own personal statistics and abilities. We are only going to have more of this as weight and encumberance come on line.
So what people need to do is evaluate their own abilities and figure out what is the best gear for them to be using at this stage in their development. Only rarely is this 'the most expensive that I can afford'. Or perhaps what they need to be doing is planning their XP investments with the equipment they would like to purchase in mind.
'I want that Hades Hardsuit, so I need to start investing in DEX now'.

But by handing newbies extra money you are promoting the attitude that their problems can be fixed with money, when so often the only thing that will fix their problems is '
more practice with playing
' and 'u
nderstanding what the skills and attributes are good for
'. The message '
this is an excellent gun, but you are too unskilled to use it well
' is not common in videogames -- which is one of the reasons I love this game!

Usually, the unexamined assumption is that all equipment is more or less the same in 'ease of use' -- so if gun a does more damage than gun b, then gun a is a better gun. Or even -- if gun a costs more than gun b, then gun a is a better gun even if you, as a player, cannot figure out why. Trust the pricing scheme of the game -- if the game wants you to spend more game-cash, then the game is right and you should.
Of course, in a fascist corp-run dystopia, this is indeed one of the attitudes that should be challenged. Maybe people can take a little bit of this home to their real life consumer habits, as well, if we are lucky.
Since we are supposed to be able to vary the economy for the game, why not allow the order-of-magnitude-more-than-they-are-worth cash payments for Simple and Easy mode, but drastically reduce the payments for the harder difficulties?